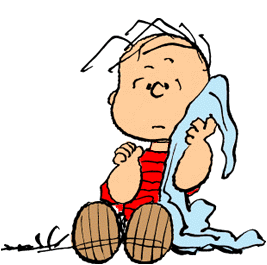 The Sisterhood's annual "Linus Blanket" Project will take place on December 14th at 10:30 AM.  Join us to make blankets for children in need! Liz Ahmann will provide everything you need to make beautiful blankets that we will donate to a local charity.  The fleece blankets provide a source of comfort and warmth for children who have experienced some sort of traumatic experience.  This is a fun and worthwhile multigenerational activity.   We will start at 10:30 am.   And while you're at the Schul, check out the gift shop's huge sale.
The fringed-fleece blankets we will be making at Mishkan Torah this year, as in past years, are easily made. Liz Ahmann will provide blanket-sized pieces of patterned fleece and strips of varied colors to use in fringing these pieces. The process is simple - and simpler this year than ever - requiring each person to use only fingers or a crochet hook to pull pieces of fleece through pre-cut hole pieces.  At the same time, by choice of colors for fringing strips and patterning their arrangement around the blanket, individuals have the opportunity to create one-of-a kind decorated blankets that kids will really treasure. 
Making the blankets is easy to do, fun artistically, and also, like an old-fashioned quilting bee, offers a nice opportunity to sit together, working with our hands, and chatting. Of course, it is an extra good feeling to be making these blankets as a service to children in need!
Once we've made the blankets, they will be taken to a local charity and distributed to children in need.  In past year, blankets have gone to children in Children's Hospital, PG Hospital, a grief camp, and elsewhere.  
This activity at Mishkan Torah
 is open to all.  
Sisterhood members and children/family members who are part of the Karp Family School are especially encouraged to participate.